Improve your performance as a team manager
Connecting employees to the organisation
As a team manager you play one of the most significant roles in connecting employees to your organisation. However poor team management is often the most cited reason for employees leaving an organisation.
In this respect there is clearly a performance gap.
Team manager coaching services
Improveon coaching services support team managers to improve their team management skills and help businesses to retain staff, reduce absence and improve performance.
A typical coaching programme might look something like this.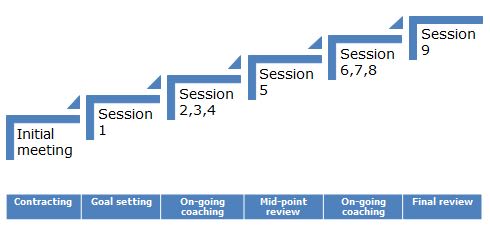 Get in touch now to discuss your requirements.
Whether you are a team manager that wants to develop or a business leader that wants to invest in the performance of your team managers, get in touch now to find out if coaching is right for you. Use the contact button to book your FREE, no obligation, introductory discussion or if you'd prefer:
contact David on 07753 430 557
email info@improveon.co.uk
use the contact page or message button.
Coaching fees and discount packages
Session
No. of sessions
*Online
Free introductory session
(phone or online)
30 minutes
FREE
An hour of coaching
1-5 sessions paid per session
£75 per hour
20% discount package
6 sessions paid in advance
£60 per hour
33% discount package
9 sessions paid in advance
£50 per hour
*Online sessions are delivered using Skype, Google Hangouts or a suitable alternative.
Face to face sessions can also be booked dependent on location and may incur travel expenses. Please enquire if this is your preferred option.
Improveon also offers the following coaching services: